Pig organs are compatible with human organs in the regard to organ transplantation. Although, the pig genome contains porcine endogenous retroviruses (PERVs), that are transferrable to other cells when cultured together. Scientists studied ways to deactivate PERVs from the pig genome to provide a safer basis for pig-to-human organ transplantations. With the help of the gene editing technique, CRISPR, scientists George Church and Dong Liu successfully deactivated PERVs from the pig genome.
The scientists mapped and identified 25 PERVs in the genome of the pig fibroblast cells. They attempted to deactivate all 25 gene loci with CRISPR. CRISPR allowed for more than 90% PERV deactivation. Scientists added "a concoction of factors related to DNA repair" in addition to CRISPR, and they were able to grow cells with 100% deactivation of PERVs. The scientists implanted the 100% deactivated PERV cells into pig embryos, and the piglets had no signs of PERVs when born.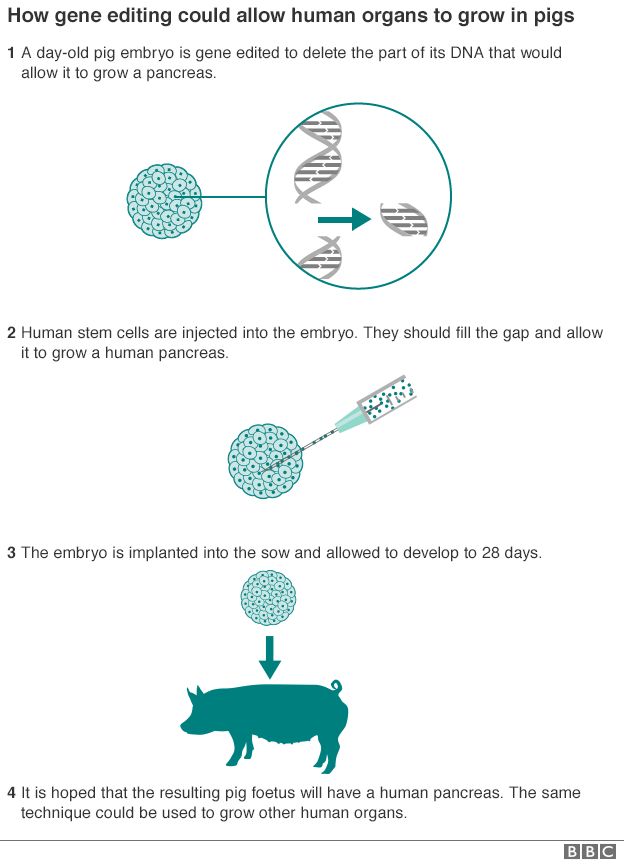 The results of this study are especially important to future organ transplantation in humans. With the prominent need for organ transplants, the ability to use pig organs for human organs will definitely benefit medical system.
_89891412_pig_gene_editing_624-2.png
https://www.sciencedaily.com/releases/2017/08/170810141605.htm
http://www.sciencemag.org/news/2017/08/crispr-slices-virus-genes-out-pigs-will-it-make-organ-transplants-humans-safer